Jackie Cooper Detail and Services Pricing
Click Here
or call our Service Department to make an appointment 844-838-3073
CLICK HERE
TO VISIT OUR DETAIL SERVICE ON FACEBOOK!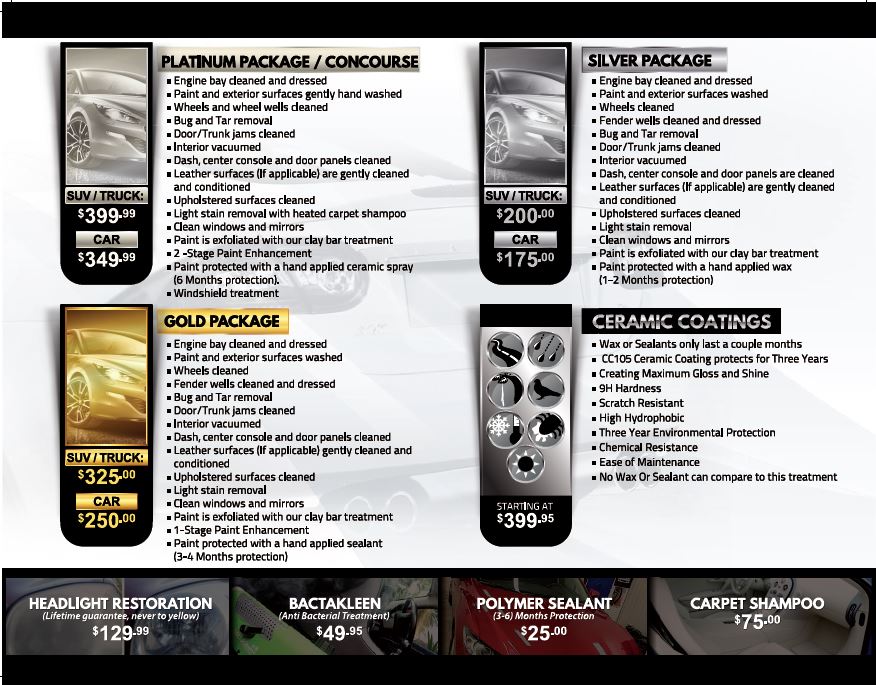 EXPRESS DETAIL (NISSAN STORE ONLY)  $59.99                             
Interior Detail Only 
Door jams cleaned, full vacuum, leather and cloth seats cleaned, door panels and dash cleaned, floor mats and carpets shampoo, trunk compartment cleaned, headliner cleaned, windows cleaned.
$100.00                           
Exterior Detail Only
Wash with Bug Removal, chamois dry, windows cleaned and dressed, engine degreased and dressed, and wax applied.
$100.00
Full Buff and Polish
Polishing is the step in the detailing process that yields the most dramatic difference in your paint's appearance. The objective of polishing is to remove imperfections in the clear coat that cause the paint to look dull. Surface imperfections can include swirls, scratches, water spots, etchings, industrial fallout, oxidation, etc. These surface imperfections cause light to fragment instead of passing directly through the clear coat yielding less gloss and depth. When these imperfections are removed, you will reveal the true potential of your vehicle's paint.
$159.99                  
         
Paint Touch-up
While paint chips are aesthetically painful, what's even more painful is the rust that will form from leaving them uncovered.  With proper application the results of the correction can be surprising.  Most importantly, the substrate is once again protected from oxidization.
$45.00       

Ozone:

Your car can smell as clean as new too, by adding an ozone generator treatment to your plans.
Everyone loves their car, especially while it still has that new-car smell. Once that wears off, all sorts of other odors develop. Tobacco smoke, spilled food, gasoline smells, smog and mildew from the air conditioning system. These odors all contribute to a "not-pleasant" and "not-so-healthy" automotive environment.  Deodorizing with ozone your car will have the same fresh, clean smell that follows a thunderstorm.
$35.00                                                               
Window Chip Repair
Windshield damage is frustrating - now you have to get it fixed.  The good news is that if you have a small chip or crack, a quick windshield repair may be all you need.

$40.00 1ST CHIP                                    
$20.00 2ND CHIP